We'd like to share a newsletter from our friends over at Greater Texas Landscape! They're resident experts on how to best care for your garden. Contact them with any questions or landscaping needs.
See below for helpful information on how to best care for your landscape.

Question of the month:  "This has been a crazy year (summer) for weather. We had lots of rain followed by hot, then dry weather.  I hear that we're still in a drought in parts of the state.  Is that true?  Should I even bother with watering my landscape?"
Absolutely yes!  Here's the 411 on how our weather affected the landscape trees and shrubs…..the unusual amount of spring/summer rain caused our trees and shrubs to get a bit "fat and sassy' and all pumped up with liquid goodies.  Roots and shoots grew like crazy then "BAM"….the faucet in the sky turned off and our temperatures rose to the high 90's and 100's.  Results?  Feeder roots started to shrivel.  These tiny root hairs, which are out and along the canopies of our trees and shrubs, began to dry up and were not able to absorb the moisture in the ground.  Full lush canopy growth began to transpire, "SWEAT", meaning they were losing extra moisture like crazy.  This is why you may see some browning and dieback in trees and shrubs in a short period of time.
So don't cut off your plants from water sources just yet.  Nurture them along with supplementary water until the next rain shower.  Remember, each region of the state shares different wet and dry  conditions.  Do what's right for your area.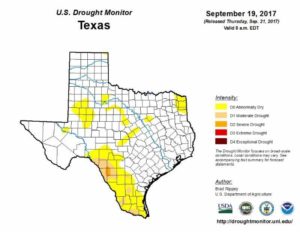 Landscape Tips for October
There are so many great things to do in our landscapes during the month of October.  Here's just a few of those tips:
Dig and divide bulbs/rhizomes/tubers (e.g. iris and daylilies)
Plan and plant your fall vegetable garden.  So many different types of leafy vegetables can be grown: kale, lettuce, brussels sprouts, cabbage and spinach to name a few.
Fertilize your lawns to winterize them.  Go with a fertilizer lower in nitrogen and higher in potassium to feed the root system vs. the top foliage.
Mulch beds for protection during the colder months.
Plan to install new container grown trees this fall. Autumn is the best time to plant trees!
Time to start planting the wildflower seeds such as Bluebonnets. Others such as Mexican Hat and Firewheel are also nice.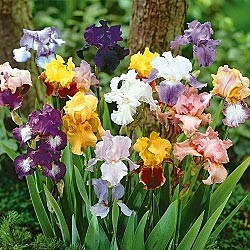 OCTOBER PROFILE – The Pumpkin
This month's profile recognizes what we see all month…and through November…The Pumpkin.  Of course we associate pumpkins with Halloween, but for the rest of us, we associate it with everything nice and sweet – pumpkin pie, pumpkin latte, pumpkin cheesecake to name a few.
Pumpkins and squash are believed to originate in the ancient Americas.  The early ones were not like the traditional ones of today.  They were more upright and crooked neck which made storage a bit easier.  Archaeologists determined that variations of the squash and pumpkins were cultivated along river and creek beds along with sunflower and beans.  Shortly after, maize (corn) was introduced, and ancient farmers learned to grow what was called the "The 3 Sisters" – squash, corn and beans.
The ancient pilgrims (those smarties) found so many uses for the pumpkin from cooking to using the dried shells as bowls!  Some even fermented the pumpkins with a combination of persimmons, hops, and maple sugar to create a pumpkin ale.  Cheers to that!
There are so many theories out there as to the origin of Jack-o-lanterns and Halloween.  Everything from beets, potatoes and turnips were carved and used as a lantern where the root vegetable was hollowed out in Ireland, Scotland and England. To the European settlers arriving in the Americas carving out the pumpkins and calling them "Jack's" lanterns.  What ever the start, we know today's pumpkin carving as taken on a whole new look and art form.